We've recently expanded our waste management contract with the Centers for Disease Control and Prevention (CDC). Our staff now support CDC in Fort Collins, Colorado. As part of this project, our employee owners ensure hazardous waste from laboratories and florescent and halogen light bulbs is managed, stored, and disposed of properly.
For over 13 years our personnel have supported CDC's waste management division. This new contract expands upon existing contracts with CDC facilities in Fort Collins, Puerto Rico, and Atlanta, Georgia. Our highly experienced teams have trained laboratory staff in handling hazardous waste materials, including spill clean-up and decontamination protocols. We also train CDC staff in satellite waste accumulation and CDC's online waste ticketing system. In addition, our staff have received high praise from the client for their organization, efficient management, and safe handling of hazardous waste.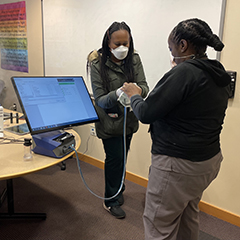 Success Stories
Safety, Health, & Environmental
First responders put their lives on the line to help others, and our team helps safeguard their protection. Our team on contract with the National Institutes of Health (NIH) Respiratory Protection Program works with staff to test respirators and establish secure fits. Similarly, they provide these fit tests for fire department personnel on a regular…
Congrats to our team supporting U.S. Environmental Protection Agency's Office of Research and Development for completing the processing and initial chemical analyses of 1000 lake water samples! They received lake water samples from across the continental U.S. this past summer and have completed the initial chemical analyses as part of the U.S. EPA 2022 National…
Success Stories
Environmental Resource Assessment & Management
Each year CSS economists on contract with NOAA's Office for Coastal Management work with other federal agencies to process the most recent economic and labor data, and extract the portions related to marine-dependent sectors.